FlowFit Achieves SOC 2 Type 1 Certification!
We are thrilled to share some fantastic news with our valued clients and partners: FlowFit, your trusted translation business management solution, has successfully attained the SOC 2 Type 1 certification!
This achievement underscores our unwavering commitment to data security, confidentiality, integrity, and availability. SOC 2 Type 1 certification demonstrates that FlowFit has undergone rigorous assessments conducted by independent auditors, evaluating the effectiveness of our internal controls and processes.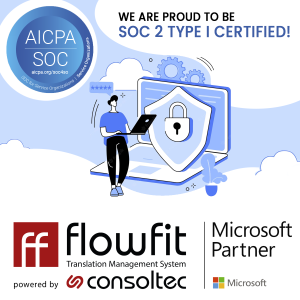 What Does This Mean for You?
Enhanced Data Security: With SOC 2 Type 1 certification, you can be confident that your sensitive information is safeguarded at all times. Our platform's security measures have been thoroughly validated to meet industry standards.


Reliable Operations: The certification validates our dedication to maintaining the availability and operational reliability of FlowFit. You can continue to rely on our platform for seamless translation business management.


Trust and Transparency: We understand the importance of trust in business relationships. The SOC 2 Type 1 certification serves as an assurance that FlowFit's practices align with the highest standards of security and compliance.


Compliance Readiness: If your business requires compliance with regulations such as GDPR, HIPAA, or others, FlowFit's SOC 2 Type 1 certification aligns with these needs and provides a solid foundation for your compliance efforts.
At Consoltec, we remain dedicated to continuously improving our services and ensuring that your experience with our translation business management solution is nothing short of exceptional. Achieving the SOC 2 Type 1 certification is just one step in our ongoing journey to provide you with the utmost security and reliability.
Experience the future of translation business management with FlowFit 3.0, where efficiency meets innovation and excellence becomes the norm.